17 Jan 2016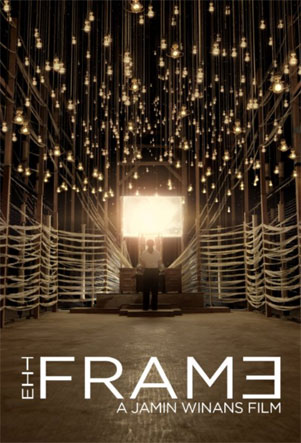 If you're interested in a truly spellbinding science fiction thriller, check out THE FRAME (2014), a touching story that uses no planet-busters or death rays, but which posits a coherent though weird alternate reality where a mindless and all-powerful force scripts the lives of the characters.
Two random strangers begin seeing each other face to face on their TV sets, and gradually understand that they're both actors in separate TV series. They've been watching each other, week to week, thinking it was only entertainment. But an authoritarian and malevolent mind lurks in the wings…
What shocks and endangers them both is the discovery that their every action is dictated. Desperation peaks after they determine that their series are about to be cancelled when the infernal script machine will type out, THE END. When they try to meet, they discover they're in different realities, separated by malevolent bit players who keep them in line.
It is here that the film frame itself becomes a player in the action, and that will truly tilt your reality.
As large in scope as Inception, but not as cornball, THE FRAME is a true alternate-reality mesh that delivers and makes your noggin work. The tale keeps you on the hazy edge of reality and fiction, and reminds any writers among us that fiction, unlike reality, has to make sense. THE FRAME step by step allows you determine what is real. In the end, it all holds up.
From Jamin Winans, writer and director of the cult smash hit, INK, THE FRAME is a tale that disrupts our view of fate, and belief, destiny and existence, a maze of flexing rules backed by an inscrutable, personified evil.
YouTube trailer (take your seizure pill).